January 22, 2016

You've tried being a solo gym rat. You've gone to group classes. You tried working out with a friend. You tolerated sub-par weight-lifting equipment in a gym that couldn't really give you what you need. The mentality, the hard work, the satisfaction, the results: nothing is going to compare to Blue Lion Fitness, and here's why:
1. You have a coach.
You might not like them when they're screaming at you to push through a final rep. You may cringe when they tell you to add 10 more pounds to your barbell. You may curse them silently (or out loud) for creating a workout borne from hell, but in the end, the fact that Danny, Ryan, Joon, and Matt are there for you, encouraging you, making you laugh, and inspiring you to push your boundaries — well, that's priceless. These guys aren't dispassionate employees — they want you to succeed just as much as you do.
2. The facility is clean and unique.
Most gyms are overflowing with cardio equipment that go wall-to-wall with minimal space in between. Not to mention, you have no idea the last time those sweat-and-grime machines were cleaned. Blue Lion has top of the line weight equipment for both men and women and they pride themselves on keeping it clean and neat. There are rowing machines and a treadmill for cardio, but BLF specializes in high-intensity interval training, division I strength & conditioning, core strength training, suspension training and plyometric training and they have the equipment to back it up.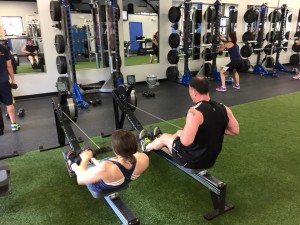 3. Music is boss AF.
I tend to shy away from loud noises. I hate not being able to hear someone talking. Sometimes, even on a run, I won't listen to a single song. With that being said, I've been completely converted. The music is LOUD, and the bass is INTENSE, and it's completely UNAPOLOGETIC. When the music gets going and your blood starts pumping, suddenly you become UNSTOPPABLE.
4. Class will kick your @$$ and leave you wanting more.
As mentioned above, Blue Lion specializes in high-intensity interval training, division I strength & conditioning, core strength training, suspension training and plyometric training. There's nothing cookie cutter about the classes, but its healthiest drug you can take.
5. Classes are made for all levels of fitness.
Despite the high-intensity of the classes, they are made for everyone. Teenagers, middle-aged, even 50+ have options to participate in the classes. Man, woman, couch potato, or elite athlete: the classes are welcoming and productive for each person. Weights are adjusted, reps are adjusted, but the coaches still push you to do the most that you can do so that each workout you are improving, you are getting stronger. And getting stronger, well, everyone is capable of that.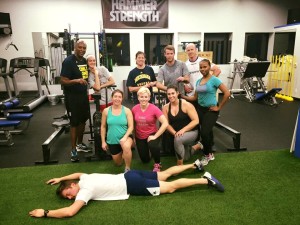 6. #LionChasers
Whether you come to the classes with a friend or by yourself, no one is a stranger. Not the coaches, not the guy three racks down struggling with his lift, or the woman to your left grunting as she pushes for one more rep. You're in this workout together and the pack mentality is so strong. You are all #LionChasers because you're friendly, you work hard, and you do it in a judgement-free zone. In fact, the zone is more encouraging than anything else.
7. Blue Lion expects you to succeed.
No excuses allowed. No whining tolerated. You're here to work. This mentality that the coaches cultivate from the minute you walk into the fitness center is phenomenal for your mental toughness. They want you to succeed, they know you can, and they don't doubt you. They know that the body can handle almost anything; it's the mind and the doubts that provide the biggest obstacle.
8. You'll leave feeling like a beast.
It is the best feeling of all time. No ifs, ands, or buts about it. You will leave knowing you kicked some serious ass and that you just pushed your body to the absolute limit. You, my friend, are a beast.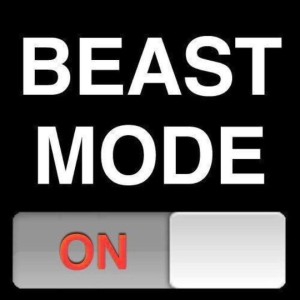 By Elizabeth Bergren