If you've ever gotten critiqued for not keeping your heels down during squats or feel very top heavy on your deadlifts, don't fret. Odds are it's not your fault, it's your shoes that are causing the problem! Your shoes have a lot to do with how successful you are and how you feel during your WOD's. I see a lot of people wearing regular running shoes in and changing to heavy duty lifting shoes for the strength portion before changing back to their running shoes for the metcon. If you have the money and want to have two pairs of gym shoes, go for the gusto! But for the crowd that has better things to spend their money on than multiple pairs of shoes, here is a list of solid shoes that will get you through your entire WOD without thinking twice about what's on your feet.
Nike Metcon 2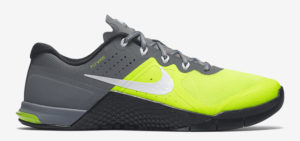 The Nike Metcon 2 seems to be the most popular shoe in the gym these days. The two words Nike uses to describe this shoe are "stable and strong." It's low heel provides stability for movements such as squats and box jumps which we do a lot of. If you read through the reviews for men or women, people seem to rave about the stability it gives them for their heavier weight lifting sessions, however, most users hate to run in them given they have a fairly solid sole from heel to toe with little cushion when you hit the pavement for a P.F. run. I tried a pair of Metcon's earlier this year and definitely loved the way I felt squatting and doing other movements that needed a stable foot. But after a few weeks, the fabric near the toe started to peel away from the shoe and it was because they weren't flexible enough to keep up with the running and sled pushes and donkey kicks I was doing on a daily basis. SO, if you're looking for a shoe to get you through strength without getting yelled at to keep your heels down, the Nike Metcon is definitely the shoe for you, but if running is in the metcon for the day, I would bring another pair of shoes just in case.
Nike Zoom Train Complete (Men)/Lunar Sculpt (Women)
The Nike Zoom Train Complete and the Nike Lunar Sculpt are a similar type of shoe in terms of their build and the way in which they were meant to be used. Both have a thick and supportive heel which helps aid  in movements like the squat and box jump but will not give you that glued-to-the-ground support like the Metcon will. The words Nike uses to describe the Zoom are " ultra-responsive cushioning," while they describe the Lunar Sculpt as having "long-lasting versatility." These shoes are meant to be all around great training shoes with a lot of cushion and flexibility to be successful in everything from wall balls to star jumps. They're similar to a running shoe but are technically designed to respond to quick movements and give you the support you need to push through your strength sessions.
Reebok CrossFit Nano 6.0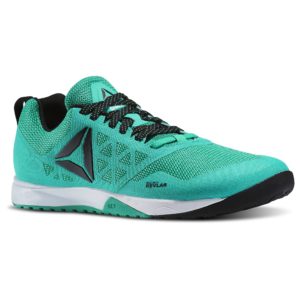 The Reebok CrossFit Nano 6.0 is pretty self explanatory. It is a CrossFit shoe, which means it is meant to withstand everything that CrossFit athletes need to train for and much much more. It has great support in the heel for weights but also has the comfort in the sole for running. After reading some of the reviews, it was obvious they are a winner for many gym-goers, especially because they take almost no time to break in and you can get right into your sweat session for the day without the discomfort of a new shoe. In a video on the page for the shoe, one of the designers describes the changes their team made from the 5.0. He says there is more cushion in the tongue, a wider toe box to allow more flexibility, and a textured exterior so CrossFit athletes can get a better grip on their rope climbs. So far, this seems like the best all around shoe for a BLF WOD.
Adidas Ultra Boost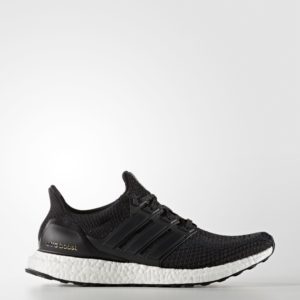 The Adidas Ultra Boost is the last shoe I've seen running around the gym. Although it is meant to be a running shoe, it seems to have the right amount of cushion and support for box jumps and even heavy lifting. The thick rubber outsole provides stability, and their Primeknit fabric allows the shoe to expand and move as you move. It's a great shoe to be wearing when you're doing a lot of different movements in one workout.
Not all of these shoes will be everyone's favorites. Those of you who have had success lifting in your shoe have choice will probably stick with them, and that's a-okay. But for those of you who think your shoes might be affecting your PR's or are really feeling the effects of numerous jumps and kicks in your joints, a shoe change might be in order and any of these shoes should prove to make some positive change in your WOD's. I think the bottom line for looking for gym shoes is to make sure you find something with enough support for runs around the Marathon gas station, and enough stability in the heel to keep them glued to the floor when you're trying to PR your squat like all you Lion Chaser's will be doing next week! It was another great week in the gym, and I know the BLF staff can't wait to see how far you all have come when you lift some heavy weights next week. Good luck!